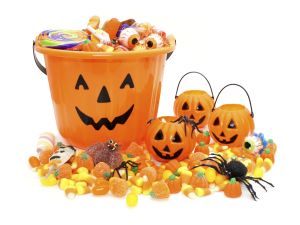 Once you've finished decorating the inside of your house for Halloween, you don't have to stop. In fact, you shouldn't be afraid to keep thinking about what you want to do to make your house look even more amazing. Time is running out to deck out your lawn, landscape, and front entrance. You might even want to put together a fabulous display for the backyard and around where the basement lies. But before we go any further, we need to talk about safety.
Suggestions for Outdoor Safety
As we mentioned last time, make sure your yard is safe for visitors to cross. Simple ways to do this include clearing up your sidewalks and walkways, adding more lights, and covering up or putting away your lawn sprinklers. It's also a good idea to keep your pets inside for the evening. All of the unusual activities will make them anxious or scared!
Decorating the Outer Lawn
The lawn is probably going to be the centerpiece of your Halloween decoration display. So spread out some leaves, but don't overdo it. Otherwise, they might become tripping hazards. Maybe put up a scarecrow with worn-out clothes? Fake skulls and tombstones can add to the ambiance as well. Stringing up black-and-orange string lights in your trees is another fun touch. Oh, and you can hang fake spider webs on your trees as well.
Decorating Your Porch and Entry
Don't leave out your front porch and entryway! Put up silhouettes of black cats, or maybe use plushie versions of them instead. Likewise, you can spread out stuffed mice or rats (maybe make them look like the cats are chasing them, too!) The porch and entryway are fantastic places to set up piles of pumpkins. Even if they aren't carved into jack-o-lanterns, you can display pumpkins that have been painted, covered in glitter, or are wearing funny hats and glasses. It's also possible to set up your rocking chair in a spot where the wind will continually make it move. That way, it'll look haunted!
Then Decorate the Doors and Windows
And for the grand finale, you can decorate the doors and windows! Place a Halloween-themed doormat with puns on them. You can also hang a seasonal wreath on the door – those decorations aren't only for Christmas, after all! LED candles provide more light while avoiding fire hazards. It's another great way to make candy bowls the star of the show. And it's even better if you are waiting to hand out candy while doing your best to observe social distancing!
Questions? Call Cedar Square Homes Today!
Whether you are ready to start the custom building home journey or you still have more questions, the trained professionals at Cedar Square Homes are here to help you out. We are beloved throughout Maryland and beyond for our attentive service and affordable home remodeling and building prices. We proudly serve Anne Arundel County. Visit us online or call us at 410-987-9771. To see more examples of our work and helpful tips and tricks, be sure to follow us on Facebook and Instagram. Cedar Square Homes MHIC #27095