Kitchen Remodeling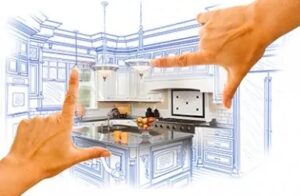 The kitchen is the heart of the home and is often one of the biggest selling points for prospective buyers, so it simply makes sense to make the most of your kitchen. If your kitchen isn't currently meeting your needs or is just in desperate need of an update, let Cedar Square Homes breathe new life into your kitchen with an expertly crafted kitchen remodel!
For over 20 years, Cedar Square Homes has built a reputation as a reliable and trustworthy contractor that is capable of completing any types of home improvements in an efficient and cost-effective manner. With our experience as a custom home builder, we know houses from basements to roofing so you can trust that we will have a thorough understanding of the needs of your kitchen remodel and will be able to offer solutions that will ensure your new kitchen looks great for years to come. We offer kitchen remodeling services to clients throughout Maryland, including Anne Arundel County, Annapolis, Crofton, Severna Park, and Pasadena.
Trust your kitchen remodeling project to the pros at Cedar Square Homes
Let's face it: Kitchen renovations are complex. There are so many factors that go into a kitchen–including plumbing, electrical, carpentry, and more–that you'll need the help of an experienced kitchen remodeling contractor who truly understand what it takes to create a kitchen that will withstand the tests of time. At Cedar Square Homes, we have experience you can count on!
From complete kitchen remodels to flooring updates and new cabinet installation, we can make your kitchen renovation dreams come true, no matter how large or small. We are capable of handling projects of any size or scope and our owners and upper management will be involved with your project from start to finish. With our commitment to providing outstanding customer service, you can trust that your new kitchen will be in good hands. We strive to answer all calls and emails within 24 hours so that you can feel confident that your project is moving along as planned.
All kitchen remodeling projects begin with an in-person conversation where we will discuss the details of your project and get an idea of your vision. We will be available to answer any and all of your questions and then we will set to creating your detailed and highly competitive proposal which we will return to you efficiently.