Bathroom Remodeling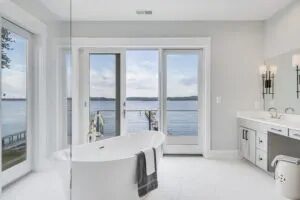 Whether your bathroom has seen better days or is simply in desperate need of an update, Cedar Square Homes can complete beautiful and functional bathroom remodels that will ensure your bathroom works for your needs. Since you use your bathroom on a daily basis, isn't it a room that you should enjoy? If the current layout is clunky or you simply don't like the tastes of your home's previous owners, we can transform your bathroom into a space where you feel comfortable and works for the needs of you and your family.
For over 20 years, Cedar Square Homes has been completing expertly finished bathrooms and other home renovations for clients throughout Maryland, including Anne Arundel County, Pasadena, Annapolis, Severna Park, and Crofton. With our commitment to excellent customer service and reputation as a trustworthy and reliable contractor, you can trust that your bathroom is in good hands when you choose Cedar Square Homes as your bathroom remodeling contractor.
Cedar Square Homes will make your bathroom work for you
No matter how large or small your bathroom remodel will be, Cedar Square Homes will complete your project with an expert attention to detail. With our experience as a custom home builder, we understand the ins and outs of homes from roofing to basement remodeling so we know what it takes to complete bathroom renovations that will truly stand the tests of time. With our dedication to extraordinary craftsmanship, top-quality materials, and more than two decades of experience as a home builder, you can trust that your bathroom will be in good hands with Cedar Square Homes.
If your bathroom isn't meeting your needs, it can be downright unpleasant to use every day. Whether you need a top-to-bottom remodel or you would just like to give your bathroom a facelift with new flooring and fixtures, Cedar Square Homes can get the job done efficiently and expertly. We will work closely with you to understand your style and preferences so that we can be sure your bathroom remodel will truly work for your needs. We can complete any type of bathroom, so whether you want a luxurious and spa-like retreat or you'd like a simple, modern, and understated bathroom, we will turn your vision into reality and ensure that your new bathroom feels like it was built just for you. Bathroom transformations are a complex undertaking: Be sure to trust your project to the experts at Cedar Square Homes.
Contact us today at 410-987-9771 to learn more about what sets Cedar Square Homes apart. We serve Anne Arundel County, Annapolis, Crofton, Severna Park, Pasadena and all other areas throughout Maryland.