New Deck Installation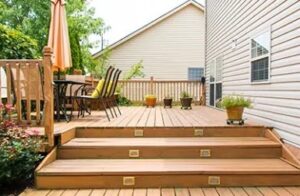 Do you have a beautiful backyard or gorgeous view that you rarely get to fully enjoy? If you wish there was an easy way to spend more time outside relaxing, entertaining, and enjoying beautiful weather, a deck is the ideal solution! At Cedar Square Homes, we have been building beautiful custom decks for over two decades and we have the skills and experience needed to help you make the most of your outdoor space. Make the most of your property by creating an outdoor living space that is perfectly suited to you and your family!
As custom home builders with more than 20 years of experience building spec homes, the team of experts at Cedar Square Homes knows what it takes to build a beautiful and long-lasting deck. Whether you want a beautiful, unique, and sleek modern deck or you prefer a more traditional porch, we can bring your vision to life and use our superior craftsmanship to build the deck of your dreams! We build decks for clients throughout Anne Arundel County, including Annapolis, Pasadena, Severna Park, and Crofton.
Make the most of your outdoor space with a beautiful new deck
Your outdoor space contains precious square footage that could be put to good use with a deck. Your new deck will be perfect for a variety of activities that would normally take place indoors–including reading, throwing parties, and simply relaxing with friends and family–so the addition of a deck can make your whole home feel bigger. Even better, your deck will provide the perfect place for you to take in your beautiful views and lovely landscaping so you'll naturally find yourself spending more quality time outdoors.
Constructing new deck requires the expertise of a professional and you can trust the craftsmen at Cedar Square Homes to build a deck that not only looks great now, but will be built to last for years to come. We use only top-quality materials so that your deck will be able to withstand the elements as well as the wear-and-tear of daily use that it will receive. We understand what a big undertaking it is to add a new deck addition to your home, which is why you need to work with a contractor who is honest, reputable, and trustworthy. With our extensive experience and stellar reputation, you can rest assured that we have what it takes to complete a beautiful and functional deck renovation.