Basement Remodeling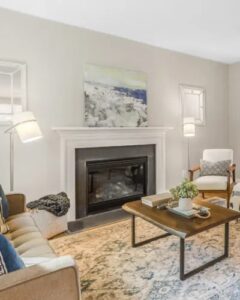 Image if you have an unfinished basement in your home, then you are missing out on valuable square footage that could be put to good use with a basement remodel. A basement renovation can transform your basement from a blank canvas into a new game room, family room, or other space that your family will use time and time again. Remodeling basements is a big undertaking, so they require the expertise of a home contractor who knows what it takes to turn an unfinished basement into a finished room that you truly love.
At Cedar Square Homes, we have spent more than 20 years building homes and have earned a reputation as a contractor that can be trusted to complete any renovation—no matter how big or how small—efficiently and affordably. Thanks to our experience building new home communities, we understand every aspect of home construction which allows us to provide you with a comprehensive renovation that addresses all of the needs of your basement. For basement renovations in Anne Arundel County, Pasadena, Crofton, Severna Park, and Annapolis, Cedar Square Homes is the best and only choice!
A basement remodel that's built with your needs in mind
Whether you want a state-of-the-art game room or a family-friendly reading space, Cedar Square Homes has what it takes to bring your vision to life. If you don't know what you want, our experienced home remodelers can help you think through the potential in your space to design a basement renovation that meets your needs in a creative, functional, and beautiful way.
Every basement renovation we complete starts with a thorough in-home conversation where we have the chance to see your space and talk to you about your ideas, needs, and wants. We strive to ensure that our remodel is built with you in mind, so we will work closely with you throughout the process to ensure that you're confident that your new basement will be everything you need and more!
We use only top-quality materials and thanks to our expert craftsmanship, you can be confident that your new basement will not only be beautiful, but also built to last. No matter how minor or extensive your project will be, we have the expertise needed to ensure that your new basement will look great for years to come. From home additions to siding installation, have what it takes to complete renovations and remodels of any size and scope, so when you need a basement remodeling company you can trust to get the job done right, trust the pros at Cedar Square Homes.
Contact us for your basement remodeling project today! We serve areas throughout Maryland including Anne Arundel County, Annapolis, Crofton, Severna Park and Pasadena.