One of the best reasons to invest in a custom home is that you will have options with spacing and design with your layout. A spacious home is always a good feeling. An open floor plan is important. One question you might have regarding your custom home design is how to add more space. Here is the answer to that dilemma.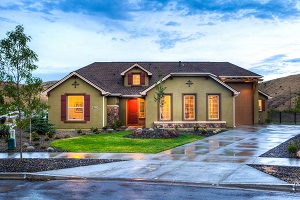 Higher Ceilings
Having a higher ceiling in your custom home is a trendy choice. Experiment with a ceiling that is nine or ten feet high. Powder rooms and foyers, which are relatively small in a conventional home, will feel much larger, and that's always good. Pairing a higher ceiling with a grand staircase that leads upstairs can open up your space even more.
Flex Space
Another solution is to have a room fulfill several purposes all at once. Flex rooms are convenient ways to add more space and should be incorporated into your custom home design whenever possible. A guest room can have more seating for a group banquet; a home office can also be a guest bedroom, and the mudroom can provide extra storage or become a central location for doing laundry.
Laying Out Several Floors
Finally, think about the benefits of stacking several floors together in your custom home. Even a single level home can be complemented with a finished basement that can accommodate a rec room, full bathroom, bedroom, and a storage room. A walkout basement if grade allows, or a walk-up basement can also lead to a patio behind the house to take full advantage of the backyard. Outdoor living spaces such as the patio mentioned above, along with hardscaping potential to include a fireplace, firepit, or a screened-in porch complete with lighting and ceiling fans. With the weather cooling down over the next few weeks, this can be a fun place to retreat while still enjoying the outdoors.
Questions? Call Cedar Square Homes Today!
Whether you are ready to start the custom building home process, or you still have more questions, the trained professionals at Cedar Square Homes are here to help you out. We are beloved throughout Maryland and beyond for our attentive service and affordable home remodeling and building prices. We proudly service Anne Arundel County. Visit us online or give us a call at 410-987-9771. To see more examples of our work and for helpful tips and tricks, be sure to follow us on Facebook and Instagram.