Building a custom home is one of the best decisions that you can make. When you're looking to show off your new pride and joy, it helps when you bring the best new features into your home. After all, it can help it becomes a much more comfortable place to live. Let's find out what some of these features are.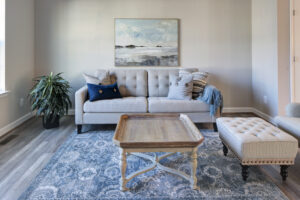 Outlets in the Kitchen
More outlets in the kitchen means you can have more appliances. This will allow you to prepare more inventive meals, even if some members of your family have dietary restrictions, such as needing to be gluten-free. Adding multiple outlets also allows you to create a charging station for all of your mobile devices and even a place to set up a workstation in the kitchen so you can continue to get work done on the computer even when you need to pay attention to what's on the stove or what's in the oven.
Adding more outlets to the kitchen island also makes a tremendous difference. Complementing those power outlets with USB ports can also ensure that your devices can be charged while allowing other small appliances to be used. Then there are the outlets that allow you to control them remotely. What this means is that you can turn a connected appliance on or off, even when you're not home.
Front Porch Space
As summer ends, you will want to spend more time on the front porch. The heat and humidity are starting to dissipate, and this means more opportunity to enjoy a cool breeze. By incorporating front porch space, you'll have even more living space. Amaze your visitors by implementing interesting decorations and help improve the overall curb appeal of your home. 
Inventive Bathroom Designs
One of the most important parts of your new custom home is the bathroom. Every bathroom can have a different look and feel with the right designs! Marble countertops with larger vanities can help you feel like you're living in a five-star hotel. You could also consider using quartz and granite in your other bathrooms.
Ideas for Kitchen Design
Let's go back to the design of the kitchen for a moment. Your countertops and backsplashes help reduce the amount of mess that you'll have to deal with later and also help you get your money's worth, which is always important. The backsplash can reach all the way to the ceiling, choose a metallic sheen for everything, and infuse the kitchen with more color.
Different Housing Plans
Finally, think about what your housing needs are. Maybe you need to accommodate in-laws or elderly relatives, or your family is growing in other ways. Building a single-story or multi-level custom home is possible; it all comes down to what you require. 
Questions? Call Cedar Square Homes Today!
Whether you are ready to start the custom building home process, or you still have more questions, the trained professionals at Cedar Square Homes are here to help you out. We are beloved throughout Maryland and beyond for our attentive service and affordable home remodeling and building prices. We proudly service Anne Arundel County. Visit us online or give us a call at 410-987-9771. To see more examples of our work and for helpful tips and tricks, be sure to follow us on Facebook and Instagram.