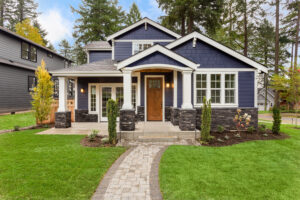 Congratulations on your new home! Every home we build here at Cedar Square Homes is built to exceed your expectations. That said, while we take care of the heavy lifting of building a new home, you can make it truly your own with decorations and comfortable arrangements. There are plenty of ways that you can make a new home a more comfortable place to live in. Here are some ideas to try!
Use Decorative Throws and Pillows
Two simple ways to make any room in your new home more comfortable is to use throw blankets and pillows. They aren't just for the living room or home theater anymore. Increasing the luxury inside your home is a worthwhile investment. After having come this far in the process, you deserve it! Gold foil pillows and knit blankets can help make your furniture look even better. If you have a talent for knitting or crocheting, then this is where you can unleash your hobby and let your imagination run wild!
Adding Plantation Shutters to Your Windows
Dressing up your windows is something that you shouldn't hesitate to do, especially if you have access to fabrics such as velvet. It can add a touch of class to your living room or bedroom, and impress your guests with your new plantation shutters no matter which room they go into whenever they come over to your new home.
Adding Nice Hardware
Don't forget about the smaller parts of your home. Hardware on doors can also help it feel more luxurious than it did before. This doesn't just apply to the doors facing out – the entries for individual rooms inside the home can benefit as well. The brackets and light switch plates can also be upgraded. As you oversee the process of getting your new custom home built, don't just focus on the big picture – the fixtures and other small components matter too! Do your research on some of the best-looking hardware out there, as well as how it will match with your new home's overall aesthetic!
Questions? Call Cedar Square Homes Today!
Whether you are ready to start the custom building home process, or you still have more questions, the trained professionals at Cedar Square Homes are here to help you out. We are beloved throughout Maryland and beyond for our attentive service and affordable home remodeling and building prices. We proudly service Anne Arundel County. Visit us online or give us a call at 410-987-9771. To see more examples of our work and for helpful tips and tricks, be sure to follow us on Facebook and Instagram.