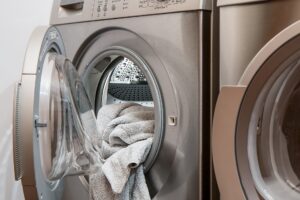 Along with doorknobs and light switches, you might overlook cleaning the washing machine in your Crofton home. After all, since you use it to wash and sanitize your clothes, you might think that the machine's interior doesn't need to be cleaned itself. However, much like a dishwasher, you shouldn't take that assumption for granted. Here is some more information!
Step One 
Before you begin, be sure to use some white vinegar for all four steps involved in the process. Now with that said, the first step is to open up the lid or door of your washer. Make sure there is nothing left inside it, or else all of your efforts will be for nothing. If there are any items left inside, such as socks, then you need to get them out of there before you can do anything else. 
Step Two
The second step is to get a quart of white vinegar ready for use. Pour the vinegar into the same compartment where you usually add laundry detergent. During this step, you need to pay more attention – detergent and fabric softener might need separate spots. Pouring the vinegar into the wrong spot could mean less than stellar results. Please note that the one-quart measurement is intended for top-loading washing machines only. If you have a front-loading machine, then your approach needs to be a bit different, but not by much. Just make sure to fill it to ¾ full and not all the way full.  
Step Three 
The third step is to set the water temperature. Killing germs and bacteria should be your priority. As such, set the water to be as hot as possible. At the same time, be sure to pick the longest cycle to ensure that the water does its job.  
Step Four 
The fourth and final step is to let the washing machine cycle through completely. Leave it empty and let it go. The vinegar will be able to disinfect your machine and not leave any lingering odors! Repeat as necessary once a week or once every two weeks depending on frequently you need to use your washer.  
Questions? Call Cedar Square Homes Today!
Whether you are ready to start the custom building home process, or you still have more questions, the trained professionals at Cedar Square Homes are here to help you out. We are beloved throughout Maryland and beyond for our attentive service and affordable home remodeling and building prices. We proudly serve Pasadena, Annapolis, and Anne Arundel County. Visit us online or give us a call at 410-987-9771. To see more examples of our work and for helpful tips and tricks, be sure to follow us on Facebook and Instagram. Cedar Square Homes MHIC #27095